In the Darkness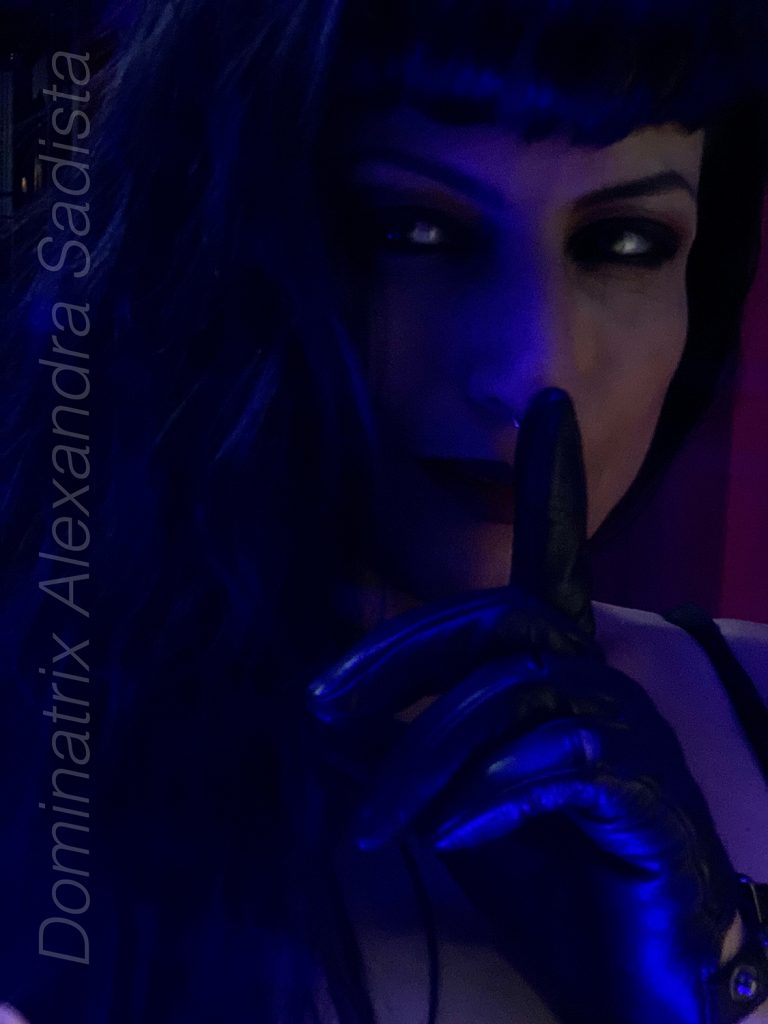 There was no small talk. No in-person negotiation. All the necessary details were discussed prior to our meeting. The door slowly creaked open. My subject entered into a dimly lit hallway reeking of frankincense and myrrh incense. One hand closed the door, the other wrapped around his neck and pushed him against the wall, the weight of My body securing him in place. he surrendered and melted in My hands, the very hands that covered his mouth and invited a dark and alluring silence into our sacred space. Only one or two words escaped his mouth over the hours that followed.
After entirely encasing him in rubber, I came and went as I pleased. Time and breathing slowed. The moments he desperately longed for My touch seemed to last an eternity. The reverberating sound of My heels growing louder announced each return. My latex-gloved hands glided over his rubber-encased body, stopping to pull on the straps that held his limbs firmly in place. Immobile. Weightless. Silent. The sound of My voice brought him back, and then there was movement. The gurney began to roll, moving from one end of the Studio to the other, taking minutes to arrive in the suspension room. I unzipped the body bag a few inches, placed multiple e-stim attachments on his lower region, and toyed with the dials. Moans and whimpers only. I spent remainder of our time together exploring his endurance, adding obstacles for him to overcome. Nipples tightly clamped, stretched, the chains attached to the electrical hoist above him. Restrictive, inflatable hood with only a tube to breathe through, My gloved hands intermittently denying him that privilege. I sure do enjoy the sight of My encased rubber toys as they writhe and squirm for a gasp of air. They are reduced to a helpless pile of flesh at the mercy of My whims.
Immobilization. Rubber encasement. Straps and chains and medical tubing. Mummification. Inflatable devices. Invasive applications. Total sensory overload. While My list is long and filled with a variety of treatments I enjoy administering, for some reason the aforementioned activities have been at the forefront as of late. This is partially due to request, but also because My recent subjects have simply needed the escape. I enthusiastically obliged each time.
Allow Me to quiet your brain, silence your thoughts. and safely guide you through an otherworldly journey into the darkest corners of your mind. Such beauty and freedom awaits you.
~DAS