Foot Fetish Party on May 6th: Pie Fiesta de Mayo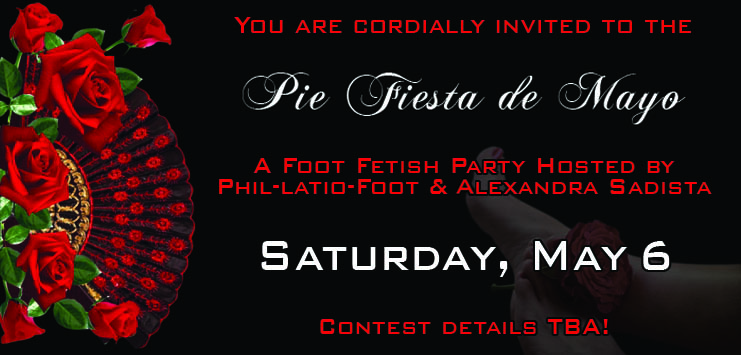 Hello, foot fetishists and worshippers!
The next foot fetish party is the Pie Fiesta de Mayo on May 6th! Hosted by Goddess Alexandra Sadista and Phil-latio-Foot plus Chicago's hottest hostesses!
The party will have a Cinco de Mayo / Fetish theme.
Date: Saturday, May 6th at 8PM
Time: 8:00 PM – ? AM
Location: RSVP for address
Don't be fooled by other parties! This is Chicago's longest running foot fetish event. 15 years and counting! We feature the sexiest feet both from Chicago and also visiting from all across the globe. At every part you will meet a variety of Women who enjoy receiving kisses, massages and foot worship, being tickled, trampling, stomping, kicking, and having their toes licked and sucked! We invite only Women who truly enjoy foot worship!
RSVP Required for location:
Iamyourfetish.com or phillatiofoot@yahoo.com
Drinks and snacks will be provided. Casual evening wear for men, cocktail dresses and casual evening wear for Women. Dress code is enforced. That means no jeans, tshirts, caps, tennis shoes. No disrespectful requests or nudity allowed, or you will be escorted out immediately.
What are you waiting for, RSVP now!