My Bewitching Convergence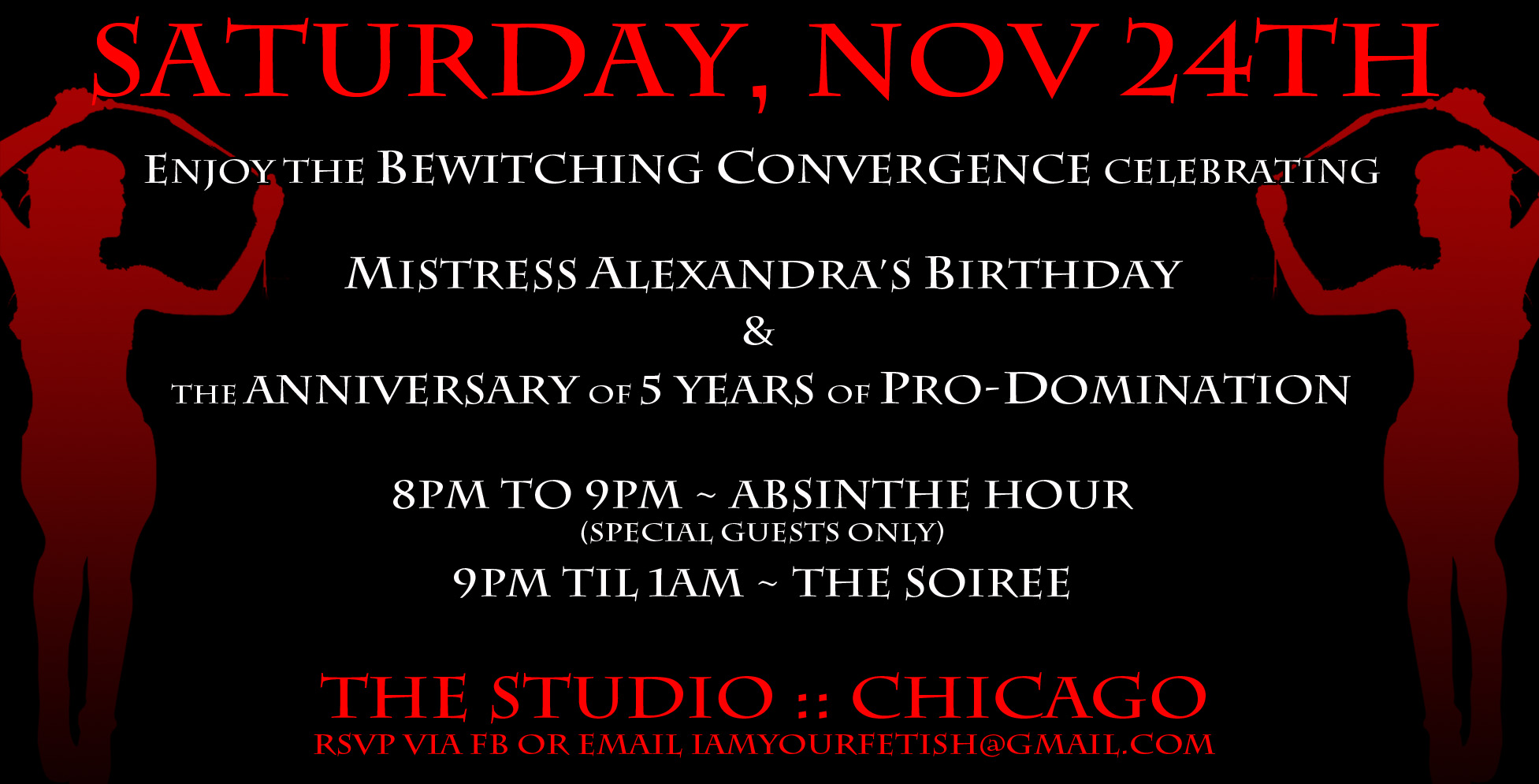 On Saturday, November 24th, I am celebrating My Birthday Party, as well as My 5 year Anniversary of Pro-Domination.
Enjoy the Bewitching Convergence celebrating Mistress Alexandra's Birthday and the Anniversary of 5 years of Pro-Domination.
8PM to 9PM ~ Absinthe Hour (Special Guests will be notified via email — no slaves/submissives allowed)
9PM til 1AM ~ The Soiree
I have updated My Wish List just in time for My Birthday! It can be found on Amazon.com under the email address Iamyourfetish@gmail.com. If you will not be attending and wish to send a token of your devotion via mail, please send gift to the following address:
Alexandra Sadista
PO Box 221565
Chicago, IL 60622
More info on the event:
This is a social, kink-friendly gathering for My friends, as well as those in the BDSM lifestyle. Secondly, this is a Play Party. Play is encouraged, but not required. Please bring your own toys. Musical soundtrack by Alexandra featuring her favorites of the New Wave, Industrial, Dark and Ambient genres.
submissives are required to bring a snack… something sweet.. something savory. Email Me at IamyourFetish@gmail.com if you are preparing a special dish or bringing a dessert to avoid repetition, and to respect My dietary preferences. Non-alcoholic beverages will be provided. BYOB (wine only please). Smoking is not allowed at the Studio.Y/you must RSVP for you and your guest to IamyourFetish@gmail.com for the address of the location.
If you have not been invited and wish to attend, submit a sincere request via email for My consideration : IamyourFetish@gmail.com.