Forced Bi Fiasco
A little over a year ago, I was invited to an event being held at The Studio. The event was to be filmed, and multiple local Dominas were to attend along with a few hand-selected male submissives. The evening would mostly consist of forced-bi scenarios, and lots of heckling and humiliation from the Ladies.
My pet was to arrive the day of the party, and being the exhibitionist that he is, I decided to push a few of his boundaries and his commitment to Me. I informed him that our agenda for the evening was to attend an exclusive play party at the Studio, that it was going to be filmed, and that he was to serve Me and follow My every instruction for the evening. Upon our arrival, he was instructed to change into a leather thong and sit on the floor waiting further instruction. It was then that I let the other gals in on the secret that My pet thought this would be a play party similar to previous ones we had attended , and that he had no clue he would be sucking real cock/s for the very first time. I tried My best to contain My mischievous laughter. Until… Myself and the Ladies were receiving dildo worship by My pet and another submissive, then suddenly an in-the-flesh penis replaced a silicone dildo in front of My pet's face, and he was ordered to out his lips around it and suck. I must admit, the look of sheer terror on his pale face gave Me an erection. The night was filled with a handful of humiliating scenes, mostly including unattractive, over weight males in embarrassing sexual positions (some of it was quite hard to watch), but the scenes that made a lasting impression were watching My pet suck his first cock, and his facial expressions while bringing a man to orgasm.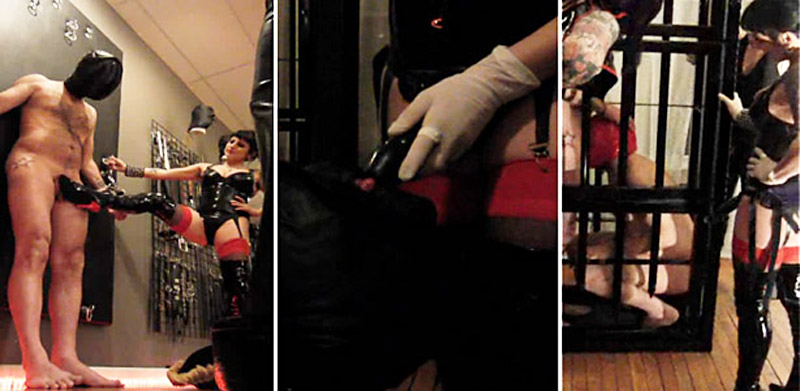 My pet's recollection of the event:
i was of course, looking forward to visiting chicago for a few days and serving in person, when i got a text from Her saying that on the day i arrive, She is invited to an exclusive play party, and wished to take me with Her. fantastic! i would arrive in town and be immersed in the culture almost immediately. on O/our way over to the party, Miss told me i was to obey all the Ladies in attendance, and that it was also a video shoot. 
W/we arrived at The Studio, and i waited at the door while Miss said hello to the Ladies. i was soon naked on my knees, encircled by these beautiful Women, and being poked, prodded and slapped by 6 strap-ons. i was unaware of anything else in the room, but then the circle got bigger and anoth …. wait a minute! that 's a real penis!! there have been many conversations about 'forced bi' scenarios, and i know a lot of men harbor this fantasy. i too have made mention of it. there have been discussions about how it could realistically be a forced situation. well, let me tell You that when Miss leaned over and whispered into my ear 'that's right, put it in your mouth and start sucking', it was officially 'forced bi'. i couldn't turn back, say no, or walk away. my duty is to obey Her, and She wanted to watch me suck a cock. She and the other ladies cheered me on, threw insults at me, scratched me, groped me and generally used and abused me while this went on. my mind was racing. this was ll new territory for me. 
there were soon 5 boys in the room, and every combination possible was tried out. i was forced (there's that word again) to suck two other cocks – i even brought one guy to orgasm, what a strange feeling that was! at one point i was having my cock sucked by a masked boy as he lay on the table and the Ladies took turns in his ass with Their strap ons, and fingers. the other boys seemed to be at home with all that was going on, and they took the brunt of the humiliation. there was some 69 between two of the boys, rimming, mutual masturbation, making out, fondling and anything else the Ladies could think of to amuse themselves. at one point i was locked in a cage with another boy and made to rub cocks with him while we played with each other's nipples. 
an experience, that's for sure. Miss once again pushed me, and Mistress Xena created the opportunity for it to happen. reminds me of an old saying – build one house, you're not a carpenter. paint one wall, you're not a painter. suck one cock …. 
The video of this Forced-Bi Fiasco is available for purchase in My C4S Store.