Forced-Bi Party (Monday, March 21, 2011)
Last month I attended The Studio for a "forced-bi"video shoot. I was invited by Mistress Xena, and after realizing My personal slave was going to be flying in that same day, I asked if he could have the privilege of attending. Of course, this under the one condition.. he was not to know nor be made aware of any details for the evening. My pet was under the assumption it was going to be a "play party" similar to the many we have attended.. we might or might not engage in play, but service and focus on Me was required at all times. I did grant him the opportunity to play with the other Ladies in attendance, if they felt so inclined. He was wagging his tail between his feet in anticipation.
We arrived, and the set up was as if the party had not quite yet begun. In actuality, the REAL party hadn't, as a few cock-sucking subs had not arrived. We (the Ladies) proceeded with the plan and began getting Our pictures taken. We strapped on our cocks and got ready for the main event. There were various camera angles to enhance Our already intimidating dildos, BJs between the sloppy attendees, multiple cocks being stuffed into single mouths, etc. There was too much action to be caught by the multiple videographers and photographers. Sometimes it was too gross to watch.. the vision of a red, hairy, sweaty ass in the air while being forced to 69 another unappealing hairy sub underneath him almost made Me gag. It was disgusting, however, I did enjoy teaming up with Mistress Vittoria and Lady Maria while we ravaged some holes.. It was an ugly mess amongst exquisite beauties: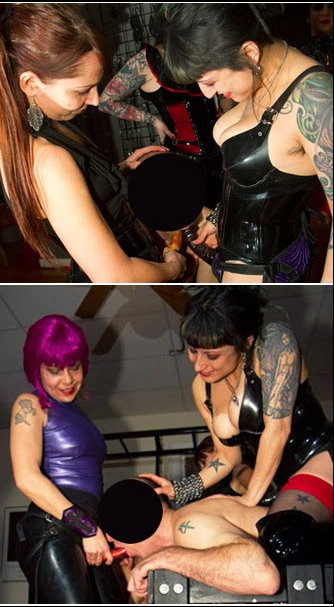 The shoot went on for hours, and when most the boys had tuckered out, I volunteered My slave to continue with another portion of the shoot. We worked on him for a while, five-on-one, and just before he was completely broken, we ended the shoot. We were satisfied. All Our cocks had gotten the attention they deserved, and all the subs had received and given their share of BJs, 69s, rim jobs, etc. I am almost too disgusted to continue writing about it because it continues to bring up mental images, so I will stop now.