Montreal Fetish Weekend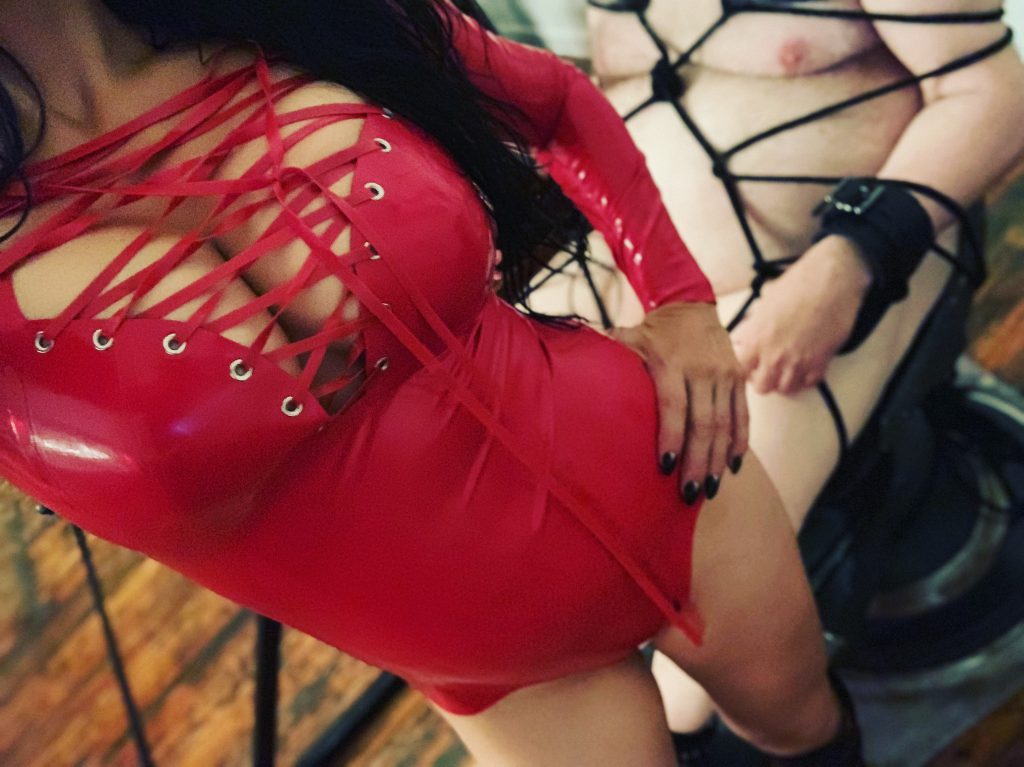 Oh, Montreal, what a joy to cavort about your streets donning Our slippery latex ensembles, putting our fetishes on display for the people on the streets to admire, and with four other Chicagoans in tow… MFW, you did not disappoint!
The weekend was a whirlwind and was over before we knew it, yet each and every moment was savored. We arrived late on Thursday night just in time to crawl into bed in order to be well rested for the remainder of the weekend. I left my hotel-mates in bed on Friday morning to shoot videos with a local submissive with a penchant for gloves, particularly leather. We shot a few scenes involving CBT, light bondage, and of course glove worship. I may have been too much for him to handle, as his request for the last clip was for it to be tickling.
Anyway, I returned to the host hotel just in time to attend Vicky Devika's Breath Play class. I always find there is something to learn when I attend a class regardless of the knowledge and experience I've acquired during My years in professional domination. In recent months I have been enthralled with free divers, their training methods, and the capabilities of the human body when placed in certain situations such as lack of oxygen for an extended period of time. As it turns out, Vicky is a trained free diver. She incorporated the knowledge she gained from her diving experiences into exploring her fetish of (what some may consider extreme) erotic asphyxiation. Her class was very informative, and her demonstrations left several of us hot and bothered — I mean, a very attractive being in a latex catsuit with head in plastic bag and later gas mask, cutting off their own oxygen, lots of heavy breathing…. OOOF.
Later we ventured out to one of the events knowing I would be calling it an early night. I had a long run planned for the next day as part of My marathon training. I was not able to run the distance I hoped to, but I did manage an 11.5 mile/18.5 km run through Old Montreal, over to Mount Royal and through the Notre Dame des Neiges cemeteries, downtown and then back to Old Montreal. After some rest, we geared up for the evening's festivities which included dinner with four other latex-clad kinksters in what seemed like a touristy area. It really is a very (kink) friendly city. We turned lots of heads however no one was rude or inappropriate, much to My pleasant surprise. We then headed to the weekend's largest event, the LateXtacy Ball. Oh My, what rubber-y goodness! Latex clad beauties wherever in sight, some pretty hot SM performances, lots of visual stimulation to take in. My cohorts and I did a fair share of gawking and mingling before piling into the back of a school bus that took us back to our hotel.
The next day we crammed in a visit the Museum of Fine Arts for the GORGEOUS Thierry Mugler exhibit, shopping at a Polymorphe pop-up store, then the Fetish Walk. The Fetish Walk may have been My favorite part of the trip! Over a hundred people in fetish gear, mostly latex, made a spectacle as we took the train together, walked through touristy areas, played in a water fountain, and then returned to our hotel on the same train. Of course we stopped to take pictures at every location! To be out and about in gorgeous, latex regalia and to be found fascinating by both locals and tourists alike, pleasantly welcomed in every area we went to, was a very unique experience.
I am pretty sure we will be returning next year. Who can say no to a weekend with My Chicago cohorts and friendly kinksters from around the world in a beautiful, welcoming city like Montreal?