HOUSTON, TEXAS – April 19th-21st
UPDATE: Available time slots remaining are Friday the 19th from 9PM til 2AM and Sunday the 21st from 4:30PM til 8PM.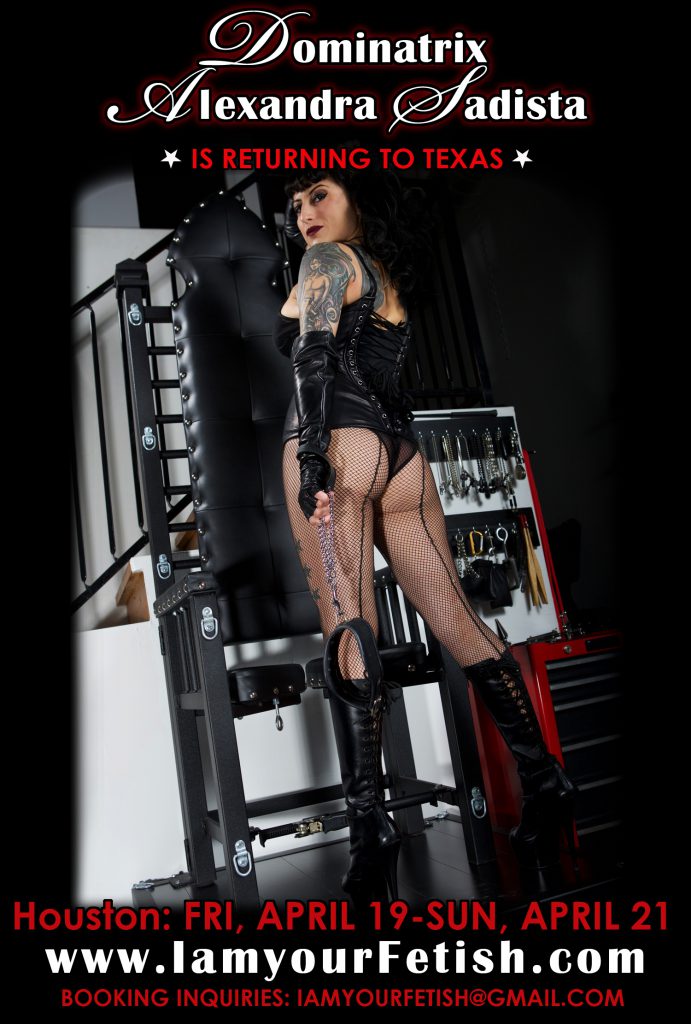 I have already started booking appointments in Houston, TX! I lived in the Montrose area and other parts of town for the majority of My childhood and young adult life. I am excited to return to see dear friends which will make My play time limited.
That said, be on your best behavior when contacting Me. Do make sure you include all the information requested when filling out My form. Do expect to send a deposit to confirm our time. It is more efficient for you to provide your exact availability rather than ask for Mine. If you are providing verifiable references, be sure to inform the ProDomina so She knows She will be contacted. Include pertinent information such as Her website URL or link to Her ad, phone, email, date of session, memorable details.
I will be conducting sessions at Domina Shannon's Dungeon which is very well equipped and discreetly located near Downtown Houston and the Minute Maid Park. Bondage lovers, the furniture in this studio is perfect for you. The St. Catherine's Wheel and metal cbt chair (see photo) has endless possibilities. I will be bringing My favorite personal items such as My electro torture kit, favorite whips and cbt/nt toys, and supplies for medical fetish scenes.
Medical fetish sessions are required to book in advance. I will not bring play piercing needles, catheters, sutures, medical staplers, enema supplies, etc unless you have arranged a scene with Me and sent a deposit.
FTT – I will only be seeing one FT while in town. Our appointment must take place in the morning on Saturday ending by 1PM or on Sunday afternoon after 1PM. I have been training new and experienced Ts for over a decade. Do not expect any physical contact or "t.p. service" as I do not allow it. your sole purpose is to be a toilet, and nothing else.
I will consider wardrobe requests that include latex, leather, lingerie, and fetish boots specifically seen in My photos, otherwise you are welcome to make a specific request and purchase (allow time for delivery).
you've a few weeks until I invade your city. Start making plans now.
~Dominatrix Alexandra Sadista