Kinky Boots Foot Fetish Party – May 11th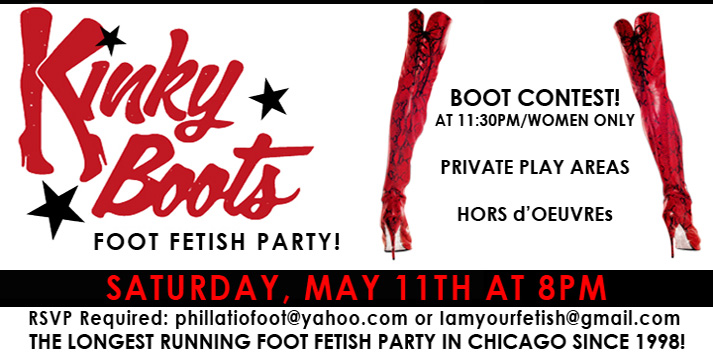 PhillatioFoot and I hope you can join us on Saturday, May 11th for our Kinky Boots Foot Fetish Party. The party will begin at 8PM and goes until 1AM. There will be a performance by Miss Ammunition and a sexiest boot presentation/contest (Women only!).
If it is your first time… Welcome!  Some of you have asked about the rules.  Basically, have fun and keep it classy.   Play should only include foot worship, tickling, massages, trampling, and any wonderful activity revolving around and catering to foot fetishists.  Any play outside of the foot fetish realm and nudity is not allowed, nor inappropriate requests.  We have seven private/semi-private areas available along with several areas in the main room for you to play in.  Again, nudity is not allowed.  No sex acts, period.  If someone makes an inappropriate or offensive request, please let me know and either Phil or I will handle the situation.  These parties have a good reputation, let's keep it that way!
This is the longest running party of its kind in Chicago – 17+ yrs!  We strive to create a safe and classy event to bring together admirers of feet and the Women that enjoy being pampered.
Women do not have to pay a donation at the door, however men are asked to do so and bring a bottle of wine for the Ladies to enjoy.  Evening wear / cocktail dresses and festive looks are welcome.  We will have hors d'oeuvres and light beverages for you to enjoy.
RSVP: Iamyourfetish@gmail.com.  If you have any additional questions, do not hesitate to ask.  Let me know if you would like to attend, and if you plan on bringing a guest.  We will need his/her name for the RSVP list.  If we do not have your full name or your guest's for the RSVP list, you will not be allowed entry.  The address and parking information will be sent on the day of the event.
~Goddess Alexandra